PRV - Via Ferrata - Squamish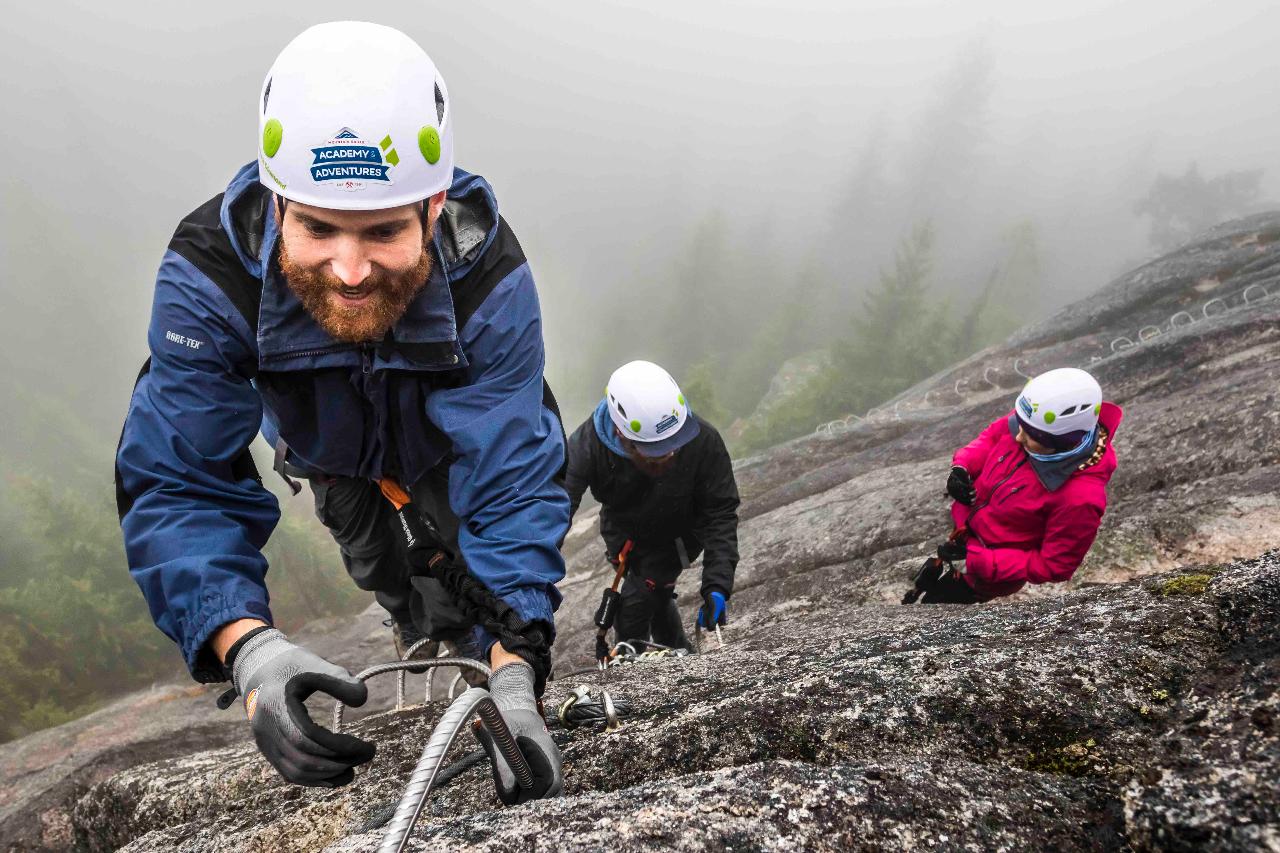 Take your Sea to Sky experience to new heights with a Via Ferrata guided tour!
A unique hiking and climbing experience that you will not forget! No climbing experience needed. Via Ferrata is Italian for 'Iron Way' and is an engineered vertical pathway. The Via Ferrata at the Sea to Sky Gondola provides an amazing alpine adventure suitable for children, families and all to enjoy. Participants are equipped with a helmet, harness, and lanyards that are clipped onto the safety cables. Our professional guides lead you along the entire route and offer interesting facts and stories as well as encouragement and tips for anyone who might need it.
**Gondola
tickets are not included - please add them to your order on the next
page.
Important Information
No experience is necessary, however, an average fitness level is required. Suitable for most children ages 8 and up.
Families with children under the age of 8 must book a private tour.
All equipment is included although participants are expected to be dressed appropriately for the weather and to wear sturdy, closed-toe shoes.
Groups are welcome!
The whole tour takes about an hour from the top of the gondola.
The gondola ride up to the meeting point takes about 10 minutes and there may be line-ups so be sure to arrive in time to make your meeting time promptly.

Shuttle: Vancouver to Sea To Sky Gondola
The Squamish Connector offers roundtrip shuttle service from downtown Vancouver to the Sea to Sky Gondola with convenient pick-up and drop-off from three downtown locations.
**Specify your pick-up location on the booking page**
Drop-Off / Pick-Up Schedule
Early morning Shuttle to Gondola // Daily in June, July & August (**Available Sat, Sun & Holidays only in May & Sep)
7:45 am Pick up at Waterfront Station
8:00 am Pick Up at Library Square (corner of Robson St. & Homer St.)
8:45 am Arrive at Sea to Sky Gondola
Mid-morning Shuttle to Gondola // Daily anytime
9:30 am Pick Up at Hyatt Hotel (wait outside the hotel on the Melville St. exit)
9:45 am Pick Up at Library Square (corner of Robson St. & Homer St.)
10:00 am Pick Up at Canada Place (please wait at the ticket kiosk)
11:00 am Arrive at Sea to Sky Gondola
Afternoon Shuttles back to Vancouver
3:00 or 4:00 pm Depart from Sea To Sky Gondola
4:30 or 5:30 pm Arrive in downtown Vancouver (arrival time depends on traffic)
**Shuttle must be booked no later than 3 pm the day before your tour.**
Bookings can be made online or over the phone at 1-604-938-9242